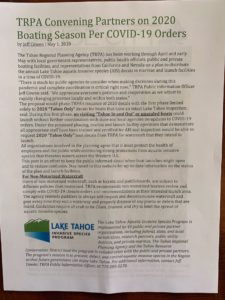 Too many of us share the love for boating. Tahoe boating is on some of our bucket list and others it is a must do for every season. As I put my boat into the water this weekend and secure it to the buoy I wonder what boating will be like on the Lake this year. For some of us with a Tahoe Only Boat we can launch at any boat launch. But if you have a new boat or a boat without a seal because you used your boat in other lakes the seal won't be obtainable because of Covid-19 and inspections sites being closed.
Will this mean fewer boats on the water?
Will they ever open the inspection site?
If I own a boat slip at the marina can I put my boat in without a seal?
A 2020 Tahoe Only boat sticker cost $45 dollars.
It might be a magical season for some of us that still have seals.
I will post pictures of our boating experience as we enter the season.